The sweeter side of life.
We're Emmi Dessert Italia and we produce speciality desserts that everyone can enjoy. We're the Italian subsidiary of the Swiss multinational Emmi. Together, it's our mission to create value for our customers by producing delectable desserts that cater to everyone, whatever their dietary requirements. But we never lose sight of the world and community we're built on. Because at Emmi Dessert Italia, people are at the heart of what we do.
Emmi Dessert Italia was established in 2018 but we're built on strong foundations. Emmi Group's Italian subsidiary is rooted in three of Italy's leading dessert companies: A-27, Rachelli and Italian Fresh Foods. Each of these were enjoying success in international markets.
2011
A-27
Ercole Lucchini set up A-27 in 1978 in Rancio Valcuvia, Lombardy. In the beginning, it focused on making ice cream. But, in the early 1990s, a bold decision in a tearoom in nearby Varese led to the company changing direction. From that day on, it focused entirely on chilled speciality desserts. It was a winning choice. A-27 became a resounding market success, particularly in France.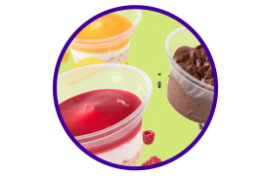 2013
Rachelli
Two years later, in 2013, it's the turn of Rachelli, a leading company in the organic and biodynamic ice cream sector. Decades earlier, back in 1935, Rachelli, a small ice-cream parlour, opened in Milan. It was destroyed during the Second World War. Never one to give up, Ermenegildo Rachelli opened a bigger one. Business boomed. In the 1980s, Rachelli opened a factory in Pero, near Milan, ushering in a new era for the company. In 1997, it started producing organic and biodynamic ice creams and became market leader in Germany and a dozen other countries.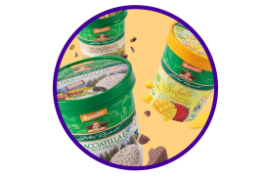 2017
I.F.F.
In 2017 we take over Italian Fresh Foods, which produces and exports fresh desserts worldwide. Italian Fresh Food was founded more recently in Lasnigo, near Lake Como. But its story is no less illustrious. Flavio Pok created the "Dolce Italia" brand in in 1992. His ambition? To share the epitome of Italian desserts, tiramisu, with the world. Before long, he added new, innovative products, including Mandolato, a soft mandarin-infused chocolate mousse. It launched in the Netherlands in 1993 where it was presented in orange packaging for the Queen's birthday. It didn't take long to conquer the Dutch, the Brits and the Americans.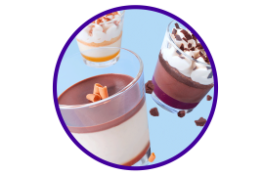 2018
Emmi Dessert Italia
In 2018 we rebranded as Emmi Dessert Italia. We are currently 450 people and with more than 20 production lines in our factories we export to 46 countries.
And our journey doesn't end here
because we are still expanding ...
Desserts everyone can enjoy.
We really mean it when we say we want to create little moments of bliss for everyone. That's why our classic Italian desserts and international favourites are designed with everyone in mind, whatever their dietary requirements. We've reinvented all your favourite desserts so they are suitable for organic, free from, plant based, halal, and kosher diets. You can even choose from a selection of different packaging options. The perfect way to enjoy your perfect dessert, whatever the occasion.